Strong growth is projected for the energy and resources sector in 2022, as projects announced during 2021 enter the feasibility and committed stages, and additionally a predicted strong sector will see job growth throughout the industry, maintaining a positive outlook for the new year.
The major projects report released in October 2021 by the Department of Industry, Science, Energy and Resources highlighted the completion of 15 projects throughout the year, while a further 273 projects by the department were announced for 2022 and beyond, with many reaching the feasibility or committed stage, highlighting the increased growth throughout the sector for the coming year. It is projected that these upcoming projects are estimated to be worth over $380 billion dollars, showcasing the investment from Federal and State Governments, and Corporations into a growing Australian industry.
Some of the projects that the sector has committed to as of the end of 2021 are Carmichael (thermal coal mine and rail), Port of Gladstone (channel duplication project), Hydrogen Energy Supply Chain Project, Moomba Carbon Capture and Storage, Gudai Darri Solar Project and many more, as shown in the below map of projects at the committed stage.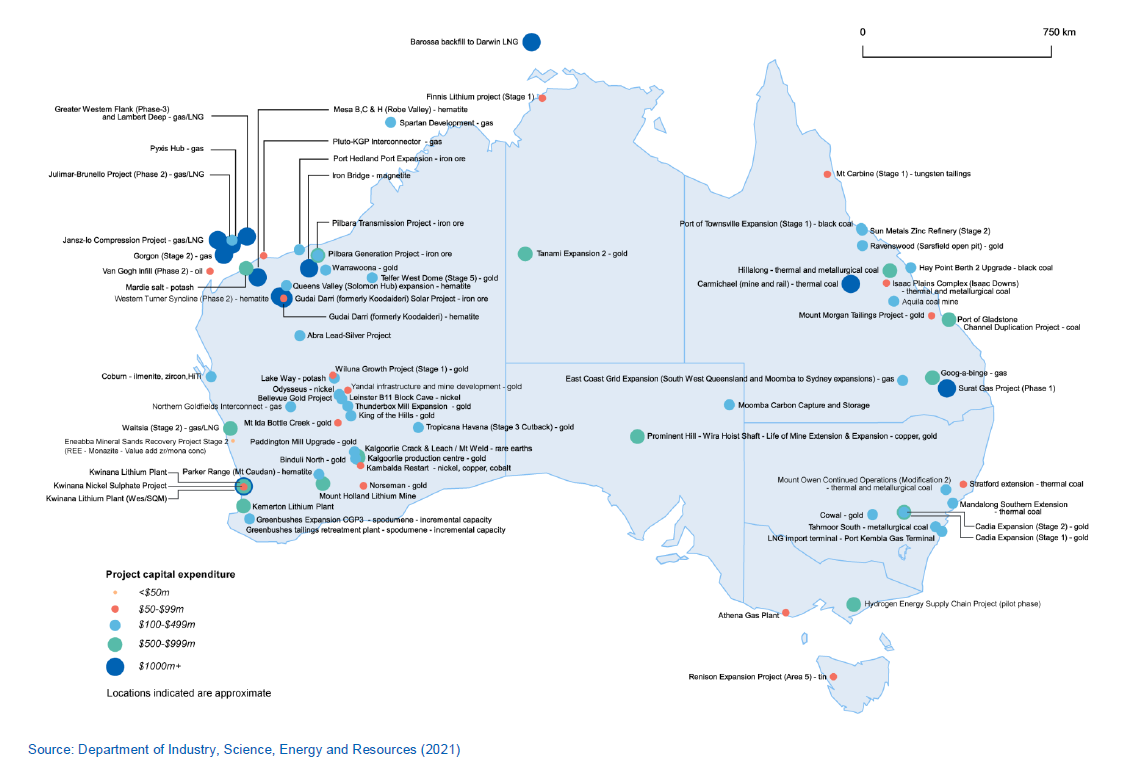 Further to this, the report has announced a 36 per cent increase for projects related to gold and a 12 per cent increase for projects related to battery/electric vehicle projects in 2021. Outlining the expectations for strong growth in the electric vehicles around the country in the coming year.
It is expected that energy exports are expected to reach a record $379 billion in 2021-22, this is an increase from $310 billion in 2020-21, according to the Resources and Energy Quarterly for December, which will provide further jobs and opportunities across Australia. This industry growth was further discussed in the major projects report, which predicted that the industry is expected to create approximately 25,100 construction jobs and 8,300 ongoing jobs, from the increase in upcoming projects, which will assist in providing security and stability across the industry.
With the energy and resources sector already employing over 250,000 people and making up more than half of Australia's total export, this projected outlook will continue to generate enthusiasm for growth within the industry.