Electric vehicles have been around longer than many realise. As popularity for electric vehicles continues to grow globally, the concerns around them have declined, and more electric vehicle models continue to enter the market.
The history of electric vehicles
The first electric motor was built in 1740's, pathing the way for the electric car to be built and continually modified over the coming centuries. It wasn't until 1888 when German engineer Andreas Flocken, built an electric car – the Flocken Elktrowagen, now recognised as the first electric vehicle due to its similarities to the standard passenger car. It was said to have a maximum speed of 15 kilometers, and the battery would only last for a total range of 25 kilometers, with the power of the vehicle being approximately 0.9kW.
By the time the 1900's rolled around, electric vehicles were the most sought-after personal vehicle, in 1901 38% of all vehicles on the road in America were electric, and only 20% of vehicles were petrol, while the rest were powered by steam.
People during this time believed that electricity would lead the way for motor-based transportation, including, Thomas Edison who fundamentally believed that electric vehicles were far more superior than other modes of transportation available, and had started to explore ideas on how to build a better battery for electric vehicles for the future
In the 1920's the demand for electric vehicles had greatly declined due to improved road infrastructure, affordable petrol prices that could fuel cars to go further and faster than their electric counterparts, and petrol-powered vehicles were much cheaper to manufacture and purchase, increasing the demand for internal combustion vehicles globally.
Fast-forwarding to the global oil crash in the 1970's, attempts were made to revisit the conversations around electric cars as an alternative to petrol cars, but many believed the technology didn't quite exist yet to make this a reality, while many others continued to attempt to build affordable electric cars with no success.
The Electric Vehicle game changer
With innovative advances for metal-oxide-semiconductor (MOS) and lithium-ion batteries on the rise, electric vehicles built in the early 2000's began to have more power and a higher driving range bridging the way for the development of Elon Musk's Telsa Roadster, which would change the electric vehicle game forever.
The 2008 Telsa Roadster was the first electric vehicle of its kind, running off lithium-ion batteries, and travelling more than 320kms per charge, with a top speed of 201 km/h. The Roadster was powered by a 3-phase, 4 pole induction electric motor with a maximum output power of 185kW. The success of the Roadster forced car manufacturers globally to start looking at electric alternatives.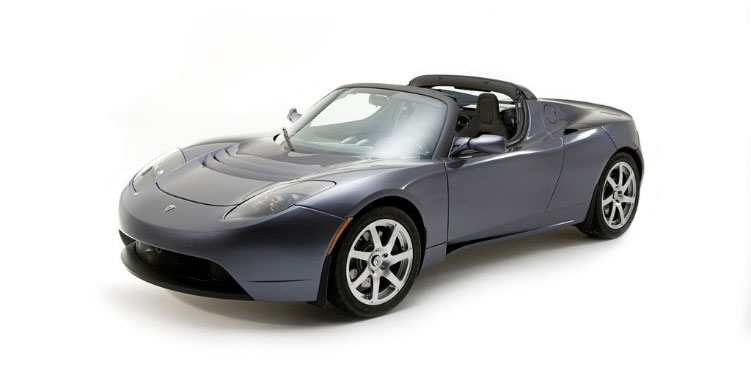 By 2010, Mitsubishi had released the Mitsubishi i-MiEV in Japan, quickly followed by Nissan with release of the Nissan Leaf, globally in 2013, which made a name for itself for being the first modern electric car with zero tailpipe emission in a family hatchback design, and at the time was awarded the title of the world's highest selling electric vehicle of all time.
By the end of 2013, Toyota, Renault and BMW had all released their own electric vehicles into the market, while Telsa continued to make further advances with their electric vehicles.
In 2016, Tesla Motors released the 2016 Telsa Model 3, selling more than a million units globally, and crowned the title for the world's highest selling electric vehicles of all time, previously held by the Nissan Leaf. In addition to this, the Model 3, outsold its petrol counterparts – the BMW Series 3 and Mercedes Benz E-Class.
Popularity for electric vehicles has continued to rise as infrastructure has improved and governments globally begun offering incentives for people to invest and purchase electric vehicles to assist in the reduction of emissions.
The current state of electric vehicles in Australia
In comparison to the rest of the world Australia has lagged with the up take of electric vehicles, which can be contributed to the lack of charging infrastructure available, consumer sentiments around range anxiety, cost, and availability of electric vehicles and, most importantly – government support.
According to the electric vehicle council of Australia, 2021 has seen positive growth in the electric vehicle sector so far, with 8,688 new electric vehicles sold between January to July 2021, and over 3,000 public chargers now installed across the country. Currently there are 31 electric vehicle models available for sale in Australia, with 14 of these models selling for under $65,000.
Australia is well below the global average for new electric car sales, as shown in the below graph, with only 0.78% market share. Lack of Federal Government support and policies continue to be blamed for this, however it should be noted that state governments across the country have led the charge on electric vehicle policies, and with some states incentivising electric vehicle sales, with mixed results, to try and increase the number of electric vehicles on the road.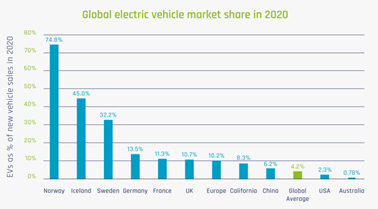 The future of electric vehicles in Australia
While we are currently lagging in electric vehicle sales throughout the country, policies that have been set by state governments are encouraging this to change, as highlighted below.
South Australia – All passenger vehicles to be electric by 2035
Victoria – 50% of all vehicle sales to be zero emission vehicles by 2035
Australian Capital Territory – All vehicle sales to be zero emission by 2030
New South Wales – 53% of all vehicle sales are to be electric vehicles by 2030-231
If targets are met, the market share of electric vehicles in Australia will drastically rise. Helping to reach these goals, is funding provided by both state and federal governments for charging infrastructure investment throughout the country. In addition to Government funding for infrastructure, one of Australia's largest fuel companies, Ampol, has recently announced that they will be investing 100 million dollars into fast-charging electric car stations at service stations around the country.
With many countries globally setting emission targets, some major car manufacturers are doing their part by setting targets to phase out all internal combustion engine vehicles between 2025 and 2040. Some of these manufactures are Jaguar Land Rover, Volvo, Mazda, Nissan, GM, Daimler, and Honda. As car manufacturers make the move to electric vehicles, it is expected that there will be an additional 27 electric vehicle models on the market in Australia by the end of 2022, assisting to drive demand for the future.
Powering electric vehicles for the future
With the lack of charging infrastructure available around the country, IPD is committed to powering your electric vehicles now and in the future.
IPD is the master distributor of the ABB Terra AC Wallbox Electric Vehicle Charger, bringing you an intelligent and connected charging solution for commercial and residential premises.
The Terra AC Wallbox can be designed with a single phase 7.4kW /32A or three phase 22kW / 32A, with adjustable max current draw for static load management and overcurrent, overvoltage and undervoltage protection for your safety. All models of the Terra AC Wallbox include Bluetooth, Wi-Fi, Ethernet (Modbus RTU) for connectivity.
Want more information? Speak to an IPD representative on 1300 556 601 or visit the website:https://resources.ipd.com.au/ev-chargers/